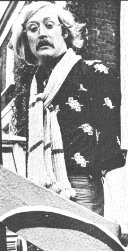 Vivian Stanshall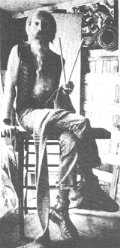 ginger geezer
---
Hello all, as promised, here's installment 1 of my Demented Record Reviews. This time we'll look at 4 singles by ex-Bonzo Dog Band co-leader & eccentric genius, Vivian (Viv) Stanshall.
---
These reviews are written and posted to rec.music.dementia as a service to those who do not have the reviewed recordings, as a means to acquaint those readers with the recorded material and the artists. Any quoted lyrics are included solely for enhancement, copyrights remain with the original owners, I make no claims. I am not affiliated with The Dr Demento Show, On The Radio Productions, etc. (except like, I was in the, like, Funny Five or something...uh huh huh huh)
---
Briefly, Stanshall was a gifted art student (painter, poet) who played trad ('20's) jazz around London in the early '60's. With other mates he formed the Bonzo Dog Dada Band, which of course later became Bonzo Dog Doo-Dah Band, then the Doo-Dah was put in parentheses, then removed altogether. Stanshall was the gold-lame-wearing showman of the group, parodying smarmy American lounge singers (listen to Look At Me, I'm Wonderful from Keynsham), as well as the dadaist stream of consciousness ramblings that permeate the later LP's (Rhinocratic Oaths from The Doughnut in Granny's Greenhouse).

After the breakup of The Bonzos, Stanshall cut some solo sides with involvement from such luminaries as Eric Clapton and Keith Moon. He recorded sporadically in the following years, after suffering a serious nervous breakdown. He also announced on Mike Oldfield's Tubular Bells LP, did children's and adult programming on BBC Radio, wrote lyrics for friend Steve Winwood's Arc of a Diver, and produced musical revues in a theater located on his houseboat in the Thames (?). In the early 1980's, a film version of his 1978 comedy/music/story LP Sir Henry at Rawlinson End (which also featured Winwood) was released .

So here's a synopsis of 4 Vivian Stanshall 45's:

Suspicion - Vivian Stanshall & Gargantuan Chums, b/w
Blind Date - Vivian Stanshall & biG GRunt (UK only, Fly Records BUG-4, 1970)

The former is a rocked-up and slightly twisted cover of the 1964 Terry Stafford Elvis imitation. Stanshall was known for his Elvis long before it was fashionable or a lifestyle. Of note is this hilarious spoken part near the end: "Darling, if you love me, please..show me some proof of your good intentions (singers: OOOOH)/I'd like it on my desk in triplicate on Monday morning, at the very latest."

Blind Date has a bluesy country feel. It is spoken as well, in the 1st person, of getting ready feverishly for a blind date, until..."It was no surprise to find you were a pygmy....Well we shared a liquid lunch and then I took you for a walk...the fur-tongued horror of a kiss.. " The group sings the choruses, with lyrics such as "I'll show you the hole in the wall" (possibly a reference to a sperm bank? Knowing Viv, anything is possible.) A possibly dubious distinction here is that the sides were produced by Keith Moon, probably another drunken period (Viv & Keith were taken to dressing up in Nazi outfits & making loud scenes in restaurants & pubs, speaking loudly & Heil-ing, reminiscent of Lennon & Nilsson in the '70's)

Labio-Dental Fricative b/w Paper-Round (Liberty Records 56171, 1970)

The A side is found on the United Artists comp The History of the Bonzos, a great set to intro one to the Bonzos. The writers credit on the sides reads "Stanshall-Clapton-Cowan-Kabaka" which denotes a sort of "Bonzo Dog Meets Cream" approach. The late Dennis Cowan was bassist for the late-era Bonzos, as well as biG GRunt and Neil Innes' post-Bonzo group The World. Kabaka was an African percussionist who worked on a few of Stanshall's records. The record has a kinda Bo Diddley feel, courtesy of bongos & maracas. Lotsa country-like solo fills from Clapton. The hook says: "Cannibal chiefs chew Camembert cheese coz chewin' keeps 'em cheeky/Big Fat Fred 'ficks (sticks) fur to his head coz he 'finks fur makes him freaky/Benjamin Bland and his Bugle Band blow de blues bi-weekly/How many pies can a porpoise poise on purpose if she pleases" If you haven't guessed by now, the title must be Stanshall-ese for a tongue twister.

Not much to say about Paper-Round, pretty much more of the same. Not a very inspired piece, considering Viv's large creative mind.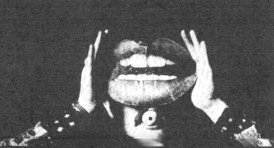 Lakonga b/w Baba Tunde (UK only, Warner Bros. Records K16424, 1974)
Recorded around the time of the LP Men Opening Umbrellas Ahead. The sound is kinda like "Viv meets ZZ Top" with extra percussion thrown in. This must be some powerful stuff, because:
"LAKONGAAAAA/Too much will make you stagger, but/LAKONGAAAAA/Maybe you'll sing like Micky Jagger...LAKONGAAAAA/Makes you feel like cutting sugar cane"...Rocked-up tune, lotsa distorted guitar (not in the modern sense, though), but ends with a trumpet solo over the riff!, maybe to give it an Afro/West Indie feel.
Baba Tunde is a low key tune, with typical late-era Stanshall low guttural singing (for a real shocker, listen to #4 in this review and then put on the Gorilla LP from the Bonzos, and hear the effects of a nervous breakdown & years of mental illness. Shame. This was about in the middle.)

Terry Keeps His Clips On b/w King Kripple (UK only, Charisma Records CB373, 1980)
I was introduced to this song on Dr. D's show when it came out. Great, almost Bonzoish. The "clips" mentioned herein are bicycle clips, used evidently by some Britishers, according to Terry's dad: "to stop those wasps and creepy crafties crawlin' up yer trousers..." The song has a distinct comedy feel, but low key. "When he goes to work/TERRY KEEPS HIS CLIPS ON/Good advice from Dad/ 'ALWAYS WEAR YOUR CLIPS, SON"'. Clarinet and accordion rule here, but there is full rhythm section and an appearance by Viv on baconium, who knows, he was one to invent his own horns. It's also a Bonzo/Rutles reunion of sorts, as Neil Innes plays piano on the whole LP (Teddy Boys Don't Knit, which has a great cover painting by Viv, and illustrations) and the drums are handled by "Admiral" John Halsey, none other than Rutle Barry Wom.
King Kripple leads off the LP. Viv talks about the band he's with and its members ("I'm King Kripple in the band...we got a hunchback drummer...") Hard rockin' and very funny. Also very British. Get this LP if you can, in your friendly import/rare store. Oh, and the 45 comes in a great cardboard sleeve with illustrations by Viv, the "A" showing a naked leg with a bicycle clip on, about to jump on a bike with a jagged spike for a seat (you gotta understand Viv I guess - see above); the "B" is his conception of Terry, a gruesome bloke with a bald head and a duck bill, riding a bike with his clips on. Strange but great.
That's the scoop on these 4 very British records from a true artist (shunned by schoolkids for his painting & poetry; on the fringe of the pop world in the '60's, and sort of a casualty to the present, but never losing it completely & always inventive, original, and truly talented), Vivian Stanshall.
Thanks for reading. Next time, who knows what I'll pull out of the cabinet to write about.
---
EPILOGUE 5/29/95: This review was written around November 1993. Earlier this year Vivian Stanshall died in his bedroom in his Muswell Hill, London apartment, the victim of smoke inhalation from an apartment fire. He was 52. He was unique. He was a genius. He will be missed.

© 1995 Chris Mezzolesta [mezzolesta@mindspring.com] / Email for permission before reposting, all reposts must be intact and include copyright notice and name of original author.

Images scanned from the booklet of the original 1968 UK LP The Doughnut in Granny's Greenhouse, the cover of the 1981 LP Teddy Boys Don't Knit, and the picture sleeve for the 1980 UK single Terry Keeps His Clips On.
---
Back to the list of demented record reviews