Tom Lehrer In Bloomington, Indiana
On Monday, May 6, 1968, Tom Lehrer appeared on stage in Bloomington, IN, at a rally for Eugene McCarthy's Presidential campaign. Tom sang and played piano, as always. The set list is not known, but it is likely that he did songs from his records, some with updated, topical lyrics. Also appearing that day were Phil Ochs, Peter, Paul & Mary, and local musicians Peter Heck and Debbie Gaber.

Photographer Neil Sharrow (lastsafari@fuse.net) was there, and reports that this was the largest crowd he ever saw in Dunn Meadow, before or since. He also took the following shots. The copyright in these pictures is reserved by Mr. Sharrow, so please write him if you wish to copy or reproduce these images in any way.

If anyone else saw Tom in Bloomington this day, or at any other stop on this tour, please e-mail Jeff at the address on the Demented Music Database homepage if you wish to share any recollections.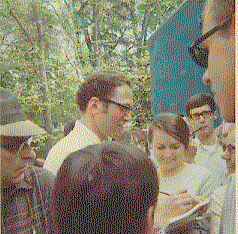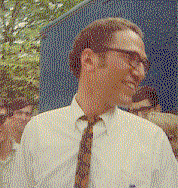 Tom signing an autograph and milling about in the crowd.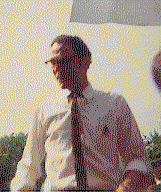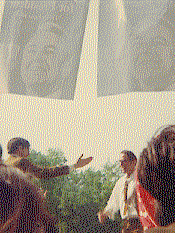 Tom coming off stage after his performance. Note the banners hanging above the stage.

Close-up of the last shot.

---
Back to the list of Lehrer concert dates