The Buffalo News (Buffalo, N.Y.), June 3, 1983
---
REVIEW: CONCERT
The doctor delivers a double dose of dementia.
---
By TIM SWITALA
News Contributing Reviewer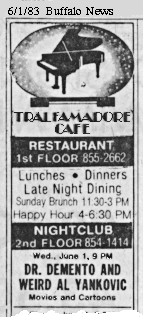 After a medley of doctor-related songs, the bearded gent in top hat and stethoscope sits behind two turntables and proceeds to bark at the audience. He then proclaims: "I'm going to do things that I can't do on the radio!" and while you might expect him to stand up and flash the frontal tables, he instead rolls a vintage 90-second film entitled "Bambi Meets Godzilla." Ah, yes, the doctor is in.
Dr. Demento, nee Barry Hansen, is the owner of 150,000 record albums, a disc jockey syndicated over some 125 radio stations and the undisputed audiophile of North America. Perhaps the world. Wednesday evening's stop of the Dr. Demento Road Show, his radio show on wheels plus videos, was the Tralfamadore Cafe. It was standing room only as three generations gathered to explore the good doctor's world of comedy music. Herein lies Dr. Demento's key to success: He educates the young about the wares of early comedy as much as he bombards parents with the humor of today.
Between videos and performances by Tom Fenton and Songbird, and "Weird Al" Yankovic, Dr. Demento spins records and dispenses trivia while the crowd cheers and claps along. He intentionally crosses eras, as with his segment on stand-up comedy, when it moves from Bill Cosby to George Carlin to Cheech and Chong. More nonsense comes in the form of Allan Sherman and the ultimate in satire is delivered by Tom Lehrer.
Next come the rarities, this time in visual form. There's the Three Stooges' classic "Be Bi Bo," better known as "The Alphabet Song." Even more special is a film entitled "Clink! Clink! Another Drink," a 1942 clip of Spike Jones and His City Slickers with a cameo appearance by a young Mel Blanc. There's also snatches unusually [sic] found at animation festivals, a superlative piece of clay animation from Barry Bruce entitle "The Great Cognito" and the wonderful "Wizard of Speed and Time." These are the things Dr. Demento can't do on the radio and they're all equally fine examples of just how much a connoisseur of humor he really is. Videos by contemporaries Barnes and Barnes ("Fish Heads") and Bill Murray ("A Bird For All Seasons," a parody of NBC's fall lineup originally shown on Saturday Night Live) round out the varied visual presentations.
But the best is saved for last: the master of the rock 'n' roll accordion, "Weird Al" Yankovic. If you hate rock music, then you'd love "Weird Al," a gentleman who cranks out more parodies than Mad magazine. In this portion of the show, nothing is sacred and everything is "sung to the tune of."
Let's see ... there's "Yoda" (The Kinks' "Lola"), "My Bologna" (The Knack's "My Sharona") and "It's Still Billy Joel To Me" (sung to the tune of, yep, you guessed it). Sometime after "The Buckingham Blues," dedicated to Prince Charles and Lady Diana, comes the infamous food medley, including such culinary delights as Hall and Oates' "Spameater," "I'm Fatter" ("Shattered") and the heavy cream version of "Whole Lotta Lunch."
They close with a show-stopping rendition of Queen's "Another One Rides The Bus" that finds Weird Al striking his best superstar pose, one that even Rex Smith would be proud of, while drummer Bermuda Schwartz punches a suitcase to keep the beat. A standing ovation ensues and the Dr. Demento Road Show concludes a zany two hours. But there's time for one last slice of dementia, a duet of Benny Bell's "Shaving Cream."
As Dr. Demento reminds, "Demented music will set you free!" Or at least it will help you to forget momentarily what ails the world.
---
contributed by Dave Guhlow and Annie Sattler
---
Back to the list of demented articles