Newsweek, December 22, 1975
---
ENTERTAINMENT
---
Loony Tunes
Dementia is a synonym for madness, but recently it has been turned into a clever national music cult. Each Sunday, a zany Los Angeles disk jockey who calls himself Dr. Demento inflicts four live hours of loony tunes on the listeners of L.A.'s KMET radio station. The show presents everything from 1940 Ogden Nash poems, set to music, to Demento favorite "Pico and Sepulveda," by Felix Figueroa--a 1949 unreleased ditty in which the names of Los Angeles streets are recited to a Latin beat. And recording artists such as Doodles Weaver, Bozo the Clown, Spike Jones and the New Leviathan Oriental Orchestra are among the standard Sunday fare on Dr. Demento's bizarre show.
So are high ratings. Dr. Demento is the top Sunday evening radio show in Los Angeles. Two hours of his taped insanity are syndicated to more than 100 radio stations around the country and the show has captured big audiences in Worcester, Mass., Charleston, S.C., and New Orleans. There are Dr. Demento T shirts, contests, song groups and a fan club. Last month, the Troubadour Club in Los Angeles celebrated the first live "Evening of Dementia."
"Dementia is as broad as rock," explains the doctor. "It is really anything that is unconventional. But remember, a bad piece of music does not necessarily make it demented music." Weird lyrics and taboo subjects help, however. Among the songs that vie for standing in Demento's prestigious "Funny Five" hit parade are "They're Coming to Take Me Away, Ha-Haaa!" "The Ballad of Ben Gay," "Junk Food Junkie" and "Who Put the Benzedrine in Mrs. Murphy's Ovaltine?"
The good doctor responsible for all this madness is Barry Hansen, 34, who happens to be one the foremost collectors of rare comedy and novelty records. Sitting in his 10- by 12-foot broadcasting studio, the frizzy-haired Hansen--who sports a top hat and tail coat--looks more like the skipper of the Yellow Submarine than a well-schooled musicologist. Hansen grew up in Minneapolis, where troublesome piano lessons first turned him toward recorded music ("I was much better at playing the phonograph," he says). By the age of 12, he was already rummaging through Salvation Army bins in search of discarded 78s, but the foundation of his empire was laid when a neighborhood dentist gave the young record hound 5,000 old disks. In tenth grade, Hansen snagged the job as deejay for the local sock hops simply because he had more records than anybody else. When he entered Oregon's Reed College to study classical music, his 20,000 records qualified him for the disk-jockey slot of the campus radio station.
Hansen graduated from college in 1963, just when coffeehouses around the country were dimming their lights to set the mood for woeful folk singers. So he went on to get a master's degree in folk music. At the same time, he edited a music magazine called Little Sandy Review and reviewed records for Rolling Stone. In 1970, Hansen took his nostalgia collection to a small radio sation in Los Angeles and two years later was snatched up by KMET.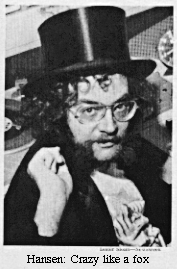 "The phonograph has always been my magic wand," says the soft-spoken deejay. "I'm really in a fantasy land." In reality, Hansen lives in a cluttered, two-bedroom house outside Los Angeles that is so overrun with his 50,000 records that every available kitchen cabinet is filled with his 78s. This year, he finally produced his first anthology album called "Dr. Demento's Delights," the best of dementia from the past few years, including "Hello Muddah, Hello Fadduh," by Allan Sherman, "Friendly Neighborhood Narco Agent," by Jef Jaisun, and "The Cockroach That Ate Cincinnati," with such lyrics as, "Oh he must have needed a seltzer, it's amazing how much he got down. For lunch he'd just chew up a suburb or two, and for dinner he ate the whole town."
Sanity: In his never-ending search for esoterica, Hansen is probably the only deejay who owns--and plays--records by five singing cartoonists: R. Crumb, Shel Silverstein, Al Capp, Walt Kelley, and Gilbert Shelton. "I'm not here to bring back the big band or to promote these records for nostalgia's sake," says Hansen with convincing sanity. "I just enjoy hearing and playing happy music. It's very necessary these days." And as they say in Los Angeles, necessity is the mother of dementia.
--BETSY CARTER with PETER S. GREENBERG in Los Angeles
---
contributed by Annie Sattler
---
Back to the list of demented articles